BJP and Congress engage in war of words after over Gautam Adani's investment in Rajasthan
Updated: Oct 8, 2022, 21:13 IST
|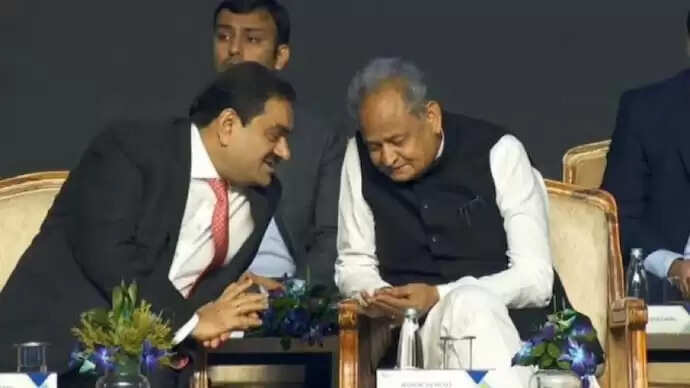 After Gautam Adani visited the Rajasthan investment forum on Friday, the Bharatiya Janata Party harshly criticised the Congress' duplicitous character. Adani and Chief Minister Ashok Gehlot taking the platform together at the summit has led to a political spat between the BJP and the Congress.
Having previously been outspoken in his opposition of Prime Minister Narendra Modi for favouring Gautam Adani, Gehlot showered the businessman with adulation, and he did the same for him. The same evening, though, Rahul Gandhi made fun of the BJP in Karnataka for its ties to the two country's businessmen—an oblique dig at the Adanis and the Ambanis.
BJP supporters criticised Gautam Adani's close ties to the party in old statements posted on social media by Rahul Gandhi and other Congress leaders. The saffron camp claimed that the Congress has a double personality, arguing that the grand old party says one thing and does another.
According to the BJP, the Congress government in Rajasthan shares the spotlight with businesses during the day and accuses the Center of favouring both "businessmen" at night.
Gehlot responded to the uproar by inquiring as to whether Rajasthan BJP has advanced to the point where it will oppose the work being done for the state's promising future. "Has the BJP changed course and is now opposing Ashok Gehlot in Rajasthan?".
The meeting between Ashok Gehlot and Adani has received a lot of media attention. In Rajasthan, Adani plans to invest over 60,000 crores. Don't invest, won't CM say? The Rajasthani government does not have any particular regulations or guidelines for Adani. According to Gehlot, he strongly opposes cronyism and does not show favouritism to friends like Modi.
Meanwhile, on Friday night, Rahul Gandhi criticised Prime Minister Modi for allegedly having intimate relations to Gautam Adani, the second-richest man in the world.
Adani had never been so wealthy. Imagine the top 100 richest people on the list had suddenly risen dramatically. He and others like him are supported by you (the general public). They want to have authority over agriculture, roads, ports, and airports. Wherever they choose, they can enter. Spending your entire life and financial resources to send your kid to college. But he is still unemployed, according to Rahul Gandhi.
The Bharat Jodo Yatra, the Congress's significant outreach campaign, is being led by Rahul Gandhi and is now travelling through Karnataka. Sonia Gandhi attended the march on October 6.