Here's how to make delicious Prawn Pie, check the recipe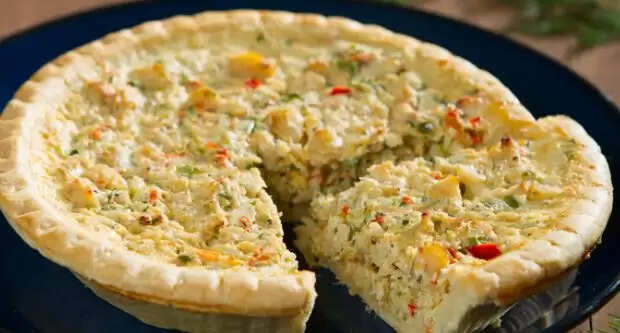 This creamy pie recipe goes well with almost everything. Prawn pie is incredibly rich and should be served in small portions as an appetizer at dinner parties.
Indgredients: 2 tbsp oil, 450 g prawns, 1 chopped onion, 2 tbsp flour, 1 1/2 cups heavy cream, salt and pepper. For the Pie dough:350+ extra gram all-purpose flour, 1 tsp salt, 275 gram butter, 5 tbsp ice cold water, 1 mashed egg.
To prepare the Prawn Pie, heat the oil in a saucepan over medium heat. Cook the onion until it becomes golden. Increase the heat to high and stir in the cream until the sauce thickens slightly. Continue to gently stir. Season with salt and pepper. Pour the prawn mixture into the pie crust and bake it.
To make the pie dough, first thoroughly combine the salt and flour in a food processor.
Cut the butter into even cubes, layer them on top of the dry ingredients in your food processor, and mix in short bursts. Repeat until the dough is clumpy and wet, with no flour remaining. This could take some time.
Now take out the dough and place it on a well-floured surface. Add the cold water spoon by spoon, folding gently to ensure it is all absorbed.
Divide the dough into two parts (one for the bottom of the pie and one for the top) and roll each piece into a disc. Wrap these discs individually in cling film and set them aside in the fridge for at least two hours.

When you're ready to bake, take out the dough and roll it out in one direction on a heavily floured surface. Flip it around gently, but not too much like a chapati.

Place the dough in your baking pan, going all the way around the sides and allowing it to hang over the rim. With a fork, prick it all the way around.

Fill the dough with your filling, then unfurl the second disk in the same manner to make a top crust. If you prefer, you can make a lovely criss-cross lattice design for a sweet pie.

Brush the top of the pastry lightly with the egg (this egg wash will give your pastry a gorgeous golden glow), and cut four slits into the dough.

Bake until golden in a preheated oven (approximately an hour at 400 degrees). Your Prawn Pie ready to serve. Other than prawns this recipe can also be cooked with chicken or lobster.