Hindu Temple In Pakistan Offers Food And Shelter To Flood-Affected Locals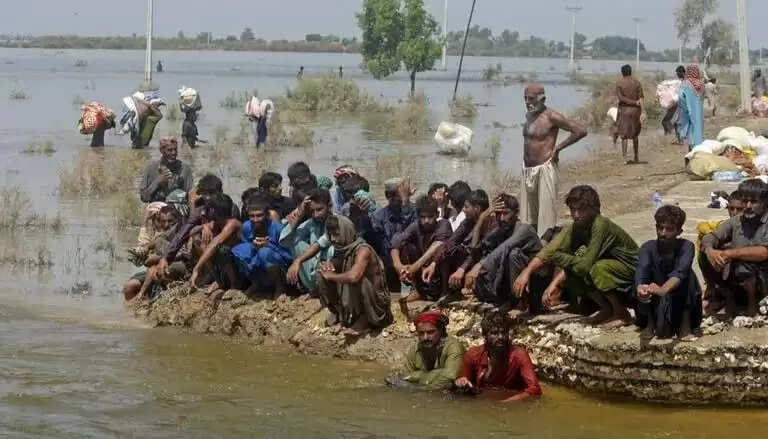 While millions of Pakistanis are stranded and relocated as a result of the devastating floods, a Hindu temple in a small village in Balochistan has provided food and shelter to approximately 200 to 300 flood-affected individuals, mostly Muslims.
The Baba Madhodas Mandir, located on high ground in the Jalal Khan hamlet of the Kachhi region, has remained relatively safe from the floodwaters and serves as a haven for flood-affected people during their darkest hours.
The settlement was cut off from the rest of the province due to inundation in the Nari, Bolan, and Lehri rivers, leaving the residents to fend for themselves.
According to the Dawn newspaper, the local Hindu community welcomed flood victims and their livestock inside the Baba Madhodas Mandir.
Baba Madhodas, according to locals, was a pre-partition Hindu saint who was respected by both Muslims and Hindus in the region.
He used to ride on a camel, said Iltaf Buzdar, a frequent visitor to the village from Bhag Nari tehsil. According to Buzdar's parents, the saint crossed religious boundaries. His parents warned him that he would see people through the lens of humanity rather than caste and creed.
The temple, which is visited by Hindu worshippers from all across Balochistan, is made of concrete and spans a large area due to its location on high ground and relative safety from the floodwater.
According to the tale, at least 200-300 people, mostly Muslims, and their animals were given asylum on the property and were cared for by Hindu families.
The area was initially isolated from the rest of the district. The displaced claimed helicopter sorties provided them with food, but once inside the temple, they were fed by the Hindu populace.
The UN Population Fund (UNFPA) raised worry about providing healthcare to about 6,50,000 pregnant women in flood-affected Pakistan.
The UN Secretary General arrived in Pakistan on Friday for a two-day visit to express solidarity with the Pakistani people.
Hunger and disease are on the rise as a result of record floods and heavy monsoons that have directly impacted 33 million people.
Last Monday, the United Nations issued a request for USD 160 million in help to Pakistan. Separately, the United States has announced an additional USD 20 million in flood relief funding.