Section 144 Imposed In Karnataka's Shivamogga After Veer Savarkar Poster Row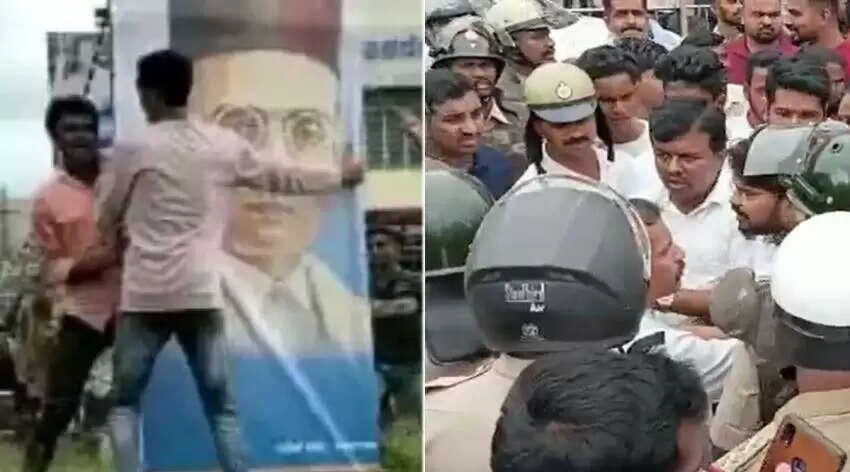 On Monday (August 15), a clash erupted between two groups over the banners of RSS ideologue V D Savarkar and 18th-century ruler Tipu Sultan. Following the clash, a ban was imposed in the Shivamogga district under Section 144 of the Criminal Procedure Code CrPC. According to a senior police officer with knowledge of the situation, tensions erupted after a banner with Savarkar's image was displayed in Shivamogga's Amir Ahmed circle as part of the Independence Day celebrations.
Police have arrested four people in connection with a stabbing that occurred on Tuesday on Independence Day in Karnataka's Shivamogga district. So far, three of the four arrested have been identified as Nadeem (25), Abdul Rehman (25) and Zabiullah. Zabiullah was shot in the leg while attempting to flee the police.
Nadeem was also involved in the 2016 clash
"Nadeem was also involved in the communal clashes that occurred during a Ganesh procession in Shivamogga in 2016," said Additional Director General of Police Alok Kumar. "He was the one who threw the sandal," he added. He stated that the police are investigating whether the arrested suspects have any ties to any organisation. He also stated that these events appeared to be pre-planned.
Case Registered Against Four Arrested Accused Under Section 307 (IPC)
A man named Prem Singh was stabbed in Shivamogga's Gandhi Bazar area hours after a dispute over the posting of posters of Vinayak Damodar Savarkar in the Amir Ahmed circle on Independence Day. A case has been filed against the four arrested people under Section 307 (attempt to murder) of the Indian Penal Code (IPC).
Section 144 imposed in Shivamogga
"In light of the current situation, we have imposed Section 144 in Shivamogga town and Bhadravati," said Shivamogga Superintendent of Police Lakshmi Prasad (taluka). The situation is now under police control, and we will conduct a thorough investigation." "A similar incident occurred in the city on Saturday when an argument broke out in a mall over Savarkar's picture," Laxmi Prasad continued.
Police Investigation On
"There were two incidents of knife stabbings in the city on Monday," Prasad said, "though we are still investigating whether these killings are related to the same clash or some other case." He informed us that we have information on stabbing knives. The injured have been taken to the hospital. We'll look into whether the stabbing is related."