Tamil Nadu women propose marriage to Rahul Gandhi, here's how he reacted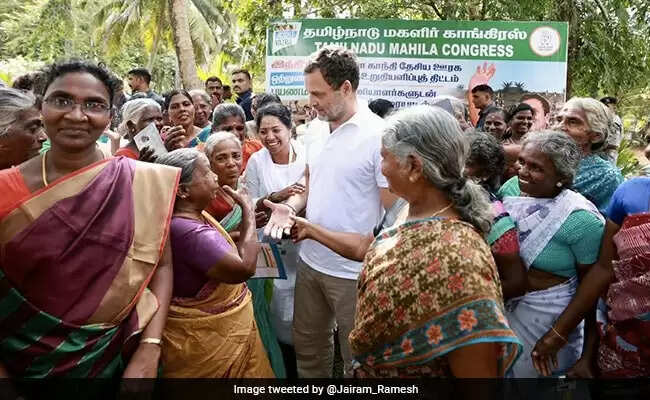 Under the leadership of Rahul Gandhi, the Congress party is undertaking 'Bharat Jodo' Yatra, which will be completed in 150 days. Congress is doing this padyatra in protest against rising prices and unemployment and during this time Congress leaders are talking to the people. At the same time, Congress MP Jairam Ramesh has shared an interesting incident related to this visit. Actually when Rahul Gandhi was talking to a group of women in Tamil Nadu. During that time a woman said that since Rahul Gandhi loves Tamil Nadu, he is ready to get her married to a Tamil girl.
Jairam Ramesh tweeted, "Rahul Gandhi was interacting with women MGNREGA workers in Marthandam this afternoon. During this, a woman said that she knows that RG loves Tamil Nadu and they want to marry her to a Tamil girl. are ready for."
A hilarious moment from day 3 of #BharatJodoYatra

During @RahulGandhi's interaction with women MGNREGA workers in Marthandam this afternoon, one lady said they know RG loved Tamil Nadu & they're ready to get him married to a Tamil girl! RG looks most amused & the photo shows it! pic.twitter.com/0buo0gv7KH

— Jairam Ramesh (@Jairam_Ramesh) September 10, 2022
The Congress' 'Bharat Jodo' yatra will cover 12 states and two union territories, and will cover a distance of 3,750 km from Kanyakumari to Jammu and Kashmir over a period of five months. Also, there will be mega rallies in 22 big cities.
At the same time, the 19-day journey of this journey in Kerala has started from the Parasala area of ​​the capital Thiruvananthapuram on Sunday morning.
The first leg of the three-hour journey ended at Neyyattinkara here at around 10.30 am and the second leg of the three-hour journey is expected to begin at 4 pm. Priyanka Gandhi Vadra shared the photos of the Yatra and said that every section of the society is excited about the Bharat Jodo Yatra and this is evident from the participation and enthusiasm of farmers, labourers, youth, women, children and the elderly. He wrote in a Facebook post, "The message of the people of the country is clear – inflation, unemployment, economic crisis and divisive politics must end." Enthused by the response to the yatra, the Congress wrote on Twitter, "Hands are joining, hearts are meeting. Bharat Jodo Yatra is bringing India together.