Zweet weds Sheru: Haryana couple gets their pets married following Hindu marriage rituals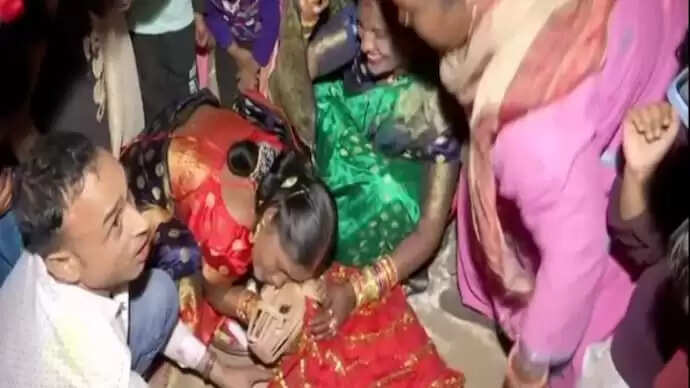 A couple in Gurugram performed marriage rituals for their pet dog to a neighboring canine and administered the creatures' wedlock in a first of its kind. The ceremony was conducted in accordance with Indian wedding customs. The two dogs' wedding ceremony included the traditional 'pheras.'
In fact, the dog owner told ANI that a 'haldi ceremony' had been planned for her dogs and the dog's future partner. On November 14, two dogs, Sweety and Sheru, married.
#WATCH via ANI Multimedia | 'Sheru weds Sweety; Neighbourhood comes alive amid 'furry' wedding festivities in Gurugram, Haryana.https://t.co/60mW9P4V5d

— ANI (@ANI) November 14, 2022
The visuals and the wedding were out of this world. In fact, invitations were sent out, and approximately 100 wedding invitations were distributed in the neighborhood.
Residents of Jile Singh Colony in Palam Vihar Extension may have been surprised, but the wedding ceremony drew a large crowd. They participated in 'baraatis' for the two dogs.
I am a pet lover, and we used to care for pets as a couple. Because I don't have a child, Sweety (the female dog) is our child. My husband used to go to the temple and feed the animals, and three years ago a stray dog followed him and came to live with us. Sweety was her name "Savita, the proprietor, stated.
People used to tell her that Sweety should get married. "We planned a four-day ceremony and decided to follow all rituals," she added.
She also stated that they were not concerned about cops apprehending them because they were a childless couple and this was their only source of happiness.
"People used to say that the police would come and arrest us but we are not bothered," she asserted.
Manita, the owner of the male dog Sheru, said the idea was brought up jokingly, but the dogs' wedding became a real discussion.