Must Watch Indian Web-Series that are based on Books: I hope you haven't read them all
Books are a great source of inspiration to come up with a TV series. Here is the exhaustive list of best Indian shows based on books and novels, well according to us!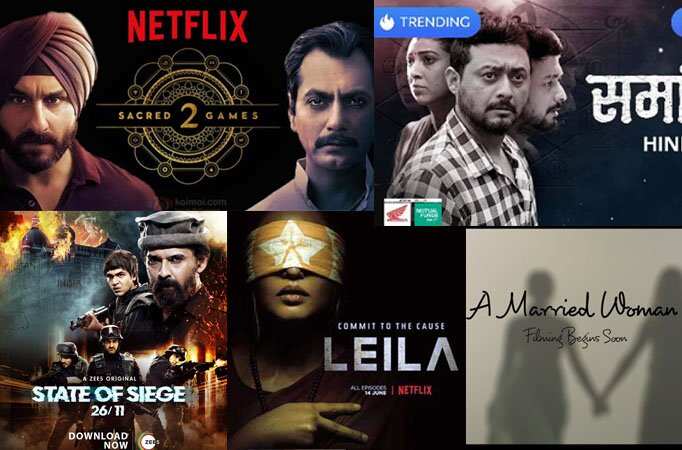 Image Courtesy - Respective Owners and Production Houses

Reading a book helps you to play your stories the way you like in your imagination and visualize the mentioned events in your head. There are moments, though, when you need a different viewpoint to see how others, maybe through a movie or a web series. Sometimes these are disappointing and sometimes these are stellar. But what about individuals who are not at all into books but want to experience some great stories concealed between those pages? Yeah, we've got a solution to all these issues. Presenting a list of shows that promise to introduce to your screen the stories from your book's pages and make you enjoy them to the fullest.

Here are my selections from the top web series that you need to watch adapted from books:

Sacred Games

Available on: Netflix

Sacred Games is a widely popular and critically acclaimed web series. It is based on the novel of the same name by Vikram Chandra. Sartaj Singh, the protagonist of the show, receives a tip-off about a serious threat by a dangerous criminal, Ganesh Gaitonde.

What begins as a chase soon spirals into something that is out of Sartaj's control. He discovers Gaitonde's past and embarks on a mission to save his city. The show has two seasons, as of now, and stars popular actors like Saif Ali Khan and Nawazuddin Siddiqui.

State of Siege: 26/11

Available on: Zee5

State of Siege: 26/11 is based on Sandeep Unnithan's book, Black Tornado: The Three Sieges of Mumbai 26/11. The web series depicts the events of the 2008 terrorist attacks in Mumbai. Unlike other depictions in the popular media, the show portrays them from the point of view of the NSG.

Apart from showing the defence team in action, it also shows the planning that went into taking down the terrorists while ensuring the safety of the civilians. The web series has eight episodes and is created by Abhimanyu Singh.

Leila

Available on: Netflix

Based on a dystopian novel by Prayaag Akbar, Leila is a story of a woman, named Shalini. The events of the show take place in a totalitarian regime shortly. In a society where communities are strictly segregated, Shalini gets arrested for overstepping this division and loses her daughter.

Her search for her daughter takes her to places that make the viewers take a hard look at their reality. The show forces the viewers to think by commenting on the political and social condition of present-day India.

Samantar

Available on: MX Player

Samantar is a show that is based on the novel of the same name by Suhas Shirwalkar. The thriller follows a man, Kumar Mahajan, who seeks to know his future, but his future is the past of another man.

Kumar leaves no stone unturned to find this man and change his life, but it is not easy to find a man who does not want to be found. The plot of the show is unique and gripping as the viewers join Kumar in his quest. Samantar stars Swapnil Joshi and Tejaswini Pandit.

A Married Woman

Available on: Coming soon on ALTBalaji

This web series is based on Manju Kapur's novel, A Married Woman. It explores the life of a woman, Astha, who has everything, and yet she is unsatisfied. The story is set in 1992; when the political unrest in the country was at its peak, Astha fell in love with the widow of a political activist.

The web series aims to show that love transcends all boundaries of gender and religion. It stars Ridhi Dogra and Monica Dogra and is still in the making. It is expected to release this year.

Bard of Blood

Available on: Netflix

Produced by Shah Rukh Khan's production house Red Chillies Entertainment, Bard of Blood is an espionage thriller based on Bilal Siddiqi's 2015 novel of the same name. Siddiqi penned the book while he was still a student at St Xavier's college in Mumbai. The book traces the life of Kabir Anand (Emraan Hashmi), a former Research and Analysis Wing (RAW) agent who gives up civilian life to return for a risky mission.

The Final Call

Available on: Zee5

The Final Call' is based on Priya Kumar's I Will Go With You: The Flight Of A Lifetime (2015). It focuses on the passengers aboard an ill-fated flight from Mumbai to Sydney whose lives are endangered after the pilot decides to commit suicide. Written and directed by Vijay Lalwani, the web series stars Arjun Rampal, Neeraj Kabi and Javed Jaffrey.

Selection Day

Available on: Netflix

Aravinda Adiga penned the story of brothers Manju Kumar (Mohammad Samad) and Radha Krishna (Yash Dholye) training for a spot on Mumbai's under-19 cricket team. The novel (2016) was shortlisted for the 2017 DSC Prize for South Asian Literature. It was adapted into a Netflix series of the same name in 2018.