Book by Kim Kardashian
Selfish is a coffee table photobook written by television personality Kim Kardashian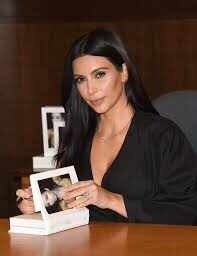 It was released on May 5, 2015 by the Universe imprint of the art bookseller Rizzoli
 
Selfish is a coffee table photobook written by television personality Kim Kardashian. It was released on May 5, 2015 by the Universe imprint of the art bookseller Rizzoli. The book features Kardashian's personal selfies, collecting various images previously posted on Kardashian's social media accounts. The photobook received positive reviews from critics.
Background: Kim Kardashian has grown an influential online and social media presence, and has always been known for taking selfies, and was called "queen of selfies" by The New York Times. In an interview with Adweek, Kardashian mentioned that she has been taking pictures of herself for decades, and said:
[I took] my first selfie in 1984 and that opens up the book. For a decade, I've carried a big digital camera, and I think it's just fascinating to see the process of what types of photos evolve. Mine started off on digital cameras, then they went to a BlackBerry and then a smartphone. There's just such an evolution of the selfie. And I captured that, I think, really well.
The photobook was announced in August 2014; the idea to assemble a book from selfies first came to Kardashian when she was thinking of what to give to her husband Kanye West as a Valentine's Day gift. "I couldn't think of what to get Kanye [for Valentine's Day] and so I was like, 'All guys love it when a girl sends them sexy pics.' So I had Stephanie [Kim's assistant] get a Polaroid, and we were taking photos around the entire house…making this cool book," Kardashian commented on an idea during an episode of Keeping Up With the Kardashians. "It ended up turning out so cool we came up with this idea to do a selfie book. So I'm going to make some super racy," she continued.
Concept: The book features various selfies of Kardashian, including travel pictures, family photos, and swimsuit shots. The book also features various nude photographs, also including pictures that were leaked during the celebrity photo hack in September 2014. Kardashian explained the reasoning of including the pictures: "I wasn't intending to put these in the book but saw them online during the iCloud hack. I'm not mad at them. They are taken with a Blackberry and I don't have iCloud... It's all a mystery!". The table book has picture with her husband Kanye West and daughter North West. The book also includes selfies with her celebrity friends, such as Ciara, La La Anthony, Jennifer Lopez, Jonathan Cheban, among others, as well as her family members: Kourtney Kardashian, Khloe Kardashian, Kendall Jenner, Kylie Jenner and her brother Rob Kardashian
Release: The photobook was released on May 5, 2015. Prior to the official date, Kardashian released a limited-edition version of the book on April 16, 2015. It featured an alternative cover with a selfie of Kardashian wearing a red bikini.The version became available on Gilt.com with a limited availability of 500 copies of numbered and signed version of the book, which reportedly were sold out in a minute.The new and updated volume of Selfish was scheduled to be released on October 11, 2016. The revised and expanded edition would contain 64 additional pages featuring Kardashian's selfies, including many never-seen-before images.