Gul Panag Share Her Thoughts On Wearing Proper Mask, Urge People To Wear Surgical Masks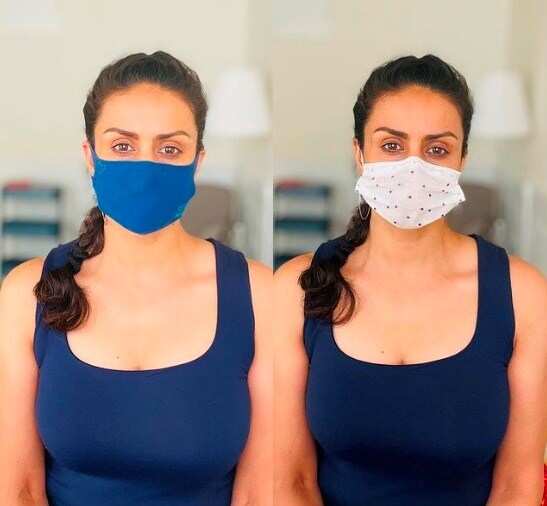 The second wave of coronavirus has hit India badly, with a number of positive cases being the highest per day in our country, former beauty queen and actress Gul Panag pens a long note addressing the right kind of mask and its importance.
Gul Panag took to her social media profile and wrote a wordy and lengthy note. It read, "Which mask? While watching with helplessness as our healthcare infrastructure collapses, my mind kept going back to the fact that masks were supposed to keep us safe. Those that wear them. Properly. With BOTH nose and mouth covered"
"I know of people who NEVER take off their mask, and yet have ended up getting Covid. How? Why? Then I did some reading on masks. Well, all masks, it turns out, are not created equal. Turns out surgical masks are better. Now, I must admit, I have quite a collection of nice, pretty cloth masks, acquired over the last year. But I have switched to surgical masks (right) now"
"Here's why - Nice looking cloth masks are great for general hygiene, dust, prevention of allergies, etc. But experts say it's safer to use a surgical mask right now. A proper surgical mask has 3 layers, an outer hydrophobic nonwoven layer, a middle melt-blown layer, and an inner soft absorbent nonwoven layer. Now, these three layers have specific functions: the outer layer repels water, blood, and body fluids (ie liquids- there's a reason surgeons use them when puncturing/cutting), the middle layer, which is most important and the critical highlight of a surgical mask, it is designed as a filter and prevents germs from entering or exiting the mask, and the inner layer is to absorb water, sweat and spit"
"P.S. A pilot friend with Air India, first told me, a few months ago, about how one can't enter the airport in Germany without a surgical mask. And I was a little perplexed. I guess QED. P. P.S. A lot of folks are also wearing double masks. With one of them being a surgical mask. The more the merrier. What say? There's this video on @ndtv which in fact suggests this as they eat forward. A double mask that is. Your thoughts?"
Proper masks, social distancing, and the use of sanitizers are the only weapon we have right now to beat the spread.
Meanwhile, on the work front, Gul was last seen in Bypass Road, a thriller helmed by Naman Nitin Mukesh, also starring Neil Nitin Mukesh, Adah Sharma, and Shama Sikander in lead roles.