Ajay Devgn's 'Maidaan' fourth schedule to start rolling on from February 14. 
The Up-coming Biographical Indian film 'Maidaan' starring Ajay Devgn to start rolling the 4th schedule from February 14 and the film anticipated to release in cinemas on 15th October,2021.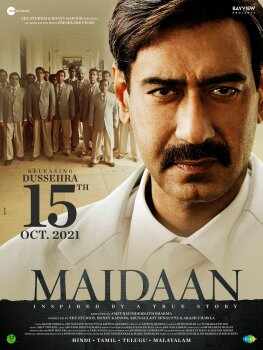 Ajay Devgn starrer Maidaan , an biographical sports film which is based on the Golden phase from 1952 to 1962 of Indian football as the national team won innumerable titles in that era. Also in the same year , Once famously FIFA President stated that India is "the sleeping giant of world football " .
According to a source report to Bollywood Hungama , The 4th schedule of the upcoming movie is all set to begin rolling from February 14 in Powai , Mumbai. The film will be shooted non-stoply and will complete the remaining 45% shoot till the end of April. The football coaching , choreography and physical conditioning camp has been on with the players for the last two months. .
They added that Ajay Devgn will join the shoot from February 14 and after completing his part , later on , he'll again join the team on March 10 in Madh where the main football sequences will be shot. The production has ensured and followed all the safety measures and precautions to keep the team safe and healthy. Also, The VFX of the movie was processed during the pandemic lockdown period in various countries globally.
'Maidaan' , the upcoming movie is inspired by the true story of the football coach Syed Abdul Rahim and the numerous achievements by the Indian football team in that era which was definitely a Golden phase for Indian football.
It is an Indian biographical sports film in hindi language which is directed by Amit Sharma and produced by Zee Studios in collaboration with the Bayview Projects LLP. Starring Ajay Devgn as the coach Syed Abdul Rahim , Priyamani , Gajraj Rao and Rudranil Ghosh in the pivotal role. Keerthy Suresh was asked to portray the motherly role but the producers felt that she was too young for that role and so they recast her with Priyamani.
The film started commencing on 19th August ,2019 and anticipated to release as per the schedule on 15th October , 2021 , worldwide in theatres coinciding with the Dussehra festival.