Nidhhi Agerwal fans built a temple in her name.
Actress Nidhhi Agerwal was in shock when she found out that her fans in chennai have exclusively built a temple in her name.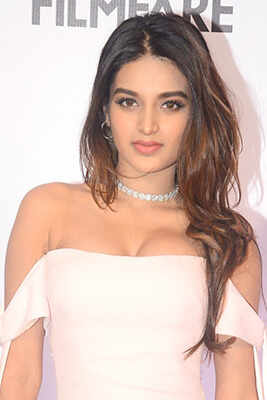 Actress Nidhhi Agerwal was a finalist of Yamaha Fascino Miss Diva 2014. She made her first acting debut in 2017 as a lead in the Hindi film Munna Michael . Then , she starred in a few Telugu and Two Tamil films 'Bhoomi' and 'Eeswaran'.
Actress Nidhhi was in shock , when she came to know that her fans have exclusively built a temple of her name in Chennai. The temple came into light when her fans presented the ceremony pictures on social media.
According to the pictures unveiled by the fans , they have installed a statue of Nidhhi in the temple and performed a special puja on Sunday.
While talking to Times of India , Nidhhi said that her fans presented the temple as a Valentine's Day gift for her " They told me it's their Valentine's Day gift to me " she added, "I was shocked as i didn't expect it. But I am happy and thankful to have fans who shower me with love."
She revealed that she didn't know the exact location of the temple but it's somewhere located in Chennai.
Fans have built temples of many stars such as MGR , Khushbhu Sundar ,Namitha , Hansika Motwani , Nayanthara in the past.
She talked about the honour of having the temple in her name , so early in her career and said " I am still so new. I've done just two films in Tamil , a few in Telugu and now , I'm shooting for a couple of them in both languages. So, yes , it's shocking but I'm overwhelmed. I didn't know my fans would go to this extent and do something like this."
(With inputs of Hindustan Times)