Shreya Ghoshal says Covid-19 had huge impact on music industry , it has to rise again. 
The Indian Singer Shreya Ghoshal states that the music industry has been heavily affected due to Covid-19 and needs some more time to rise again.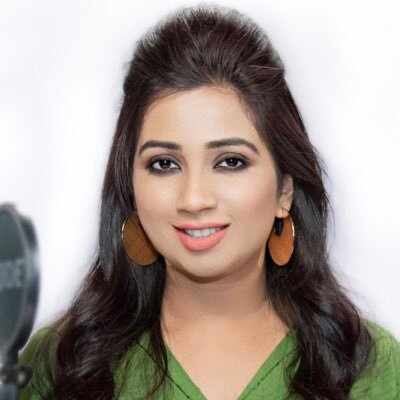 Due to Covid-19 Pandemic , Every other sector faced a difficult time and even the Music Industry had been heavily affected and striving to keep up. Shreya Ghoshal noted that , due to the situation , music will definitely need some more time to rise .
Shreya Ghoshal who is an well-known Indian singer has teamed up with her brother , Soumyadeep Ghoshal to create a song which is an intricate electronic pop ode with the feelings of longing and reunion titled 'Angana Morey'. The entire team worked independently and created the power song , during the pandemic.
According to a source report the Singer Shreya Ghoshal shares that " The live scene which mean that the musicians only outlive for the performances and concerts , the reason why the whole industry got struck badly. Singers and musicians and the whole system which was mainly flourishing through that have been razed and it has to rise from the ashes".
However , Ghoshal is hopeful that it'll soon turn back to normal because the nature of music is universal and to be enjoyed by all.
" I believe that music cannot happen in isolation. You can think , ideate and write in isolation , but music needs human connections. When we get together , the energies and ideas are generated and everything falls in place and a grand song emerges. So, it's much more effortless when people come together in the studio - singers , writers , composers. That has been missed badly. Now that film work and the projects have resumed , we're on the right track", She elaborated.
Ghoshal explained that ," The whole year of 2020 was a test for the industry especially Indian music is heavily dependent on films which we realise , but we don't want it like that. And it actually created a wide emerging parallel industry which is independent music. A lot of music emerged during this time , and I hope this trend develops more platforms and the environment for indie musicians goes into a much bigger scale. This challenge was needed for it to happen".
She also shared that things happen only when you want them to happen. The lockdown and quarantine last year made her go into a thoughtful mode which made her brood on the idea of what she really wanted to do musically. The song idea basically originated from there. She wants to do something which would make her want to invade classical music. She also added the want to take forward to the generation that follows her . She didn't want to make it sound like a cliche classical piece , but a new age experience.
(Source:- Hindustan Times)