On the occassion of Basant Panchami, temple in Srinagar opens after 31 years!!
Sheetal Nath Temple in Srinagar which was closed due to militancy for the past 31 years, opens on Basant Panchami with a small puja.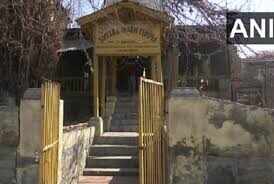 Sheetal Nath temple located at Srinagar in the Habba Kadal area re - opens, a small veneration was also performed for the devotees.
on the auspicious occasion of Basant Panchami, Sheetal Nath Temple located at Srinagar in the Habba Kadal area reopens after 31 years. It was earlier closed due to the militancy and the Hindu Outmigration. The most fascinating part of the reopening of the temple is that the Musim community served as a major support throughout the opening.
While the opening was done, a small "pooja" was performed by the devotees inside the Temple. Santosh Razdan, one of the deotees also told that how the muslim community was a constant throughout the re - opening of the temple.
"Our Mulsim brother and sisters brought pooja items. We used to do this pooja every year. Baba Sheetal Nath Bhairao's birth anniversary falls on Basant Pachmit that is why we celebrate this day with fervour," Razdan, one of the organizers of the pooja said. One of the organizers of the pooja also reported that how the Muslim Community supported and took the initiative to clean the temples, even when the Hindus residing there had left.
"Shital Nath temple reopened after 31 years. People used to come here before to offer prayers but it was closed due to militancy. Hindus residing near the temple had also left. Locals mostly belonging to the Muslim community helped us," she told.