Modi Govt hikes DA by 4% under 7th Pay Commission, Check Details
Updated: Sep 28, 2022, 19:36 IST
|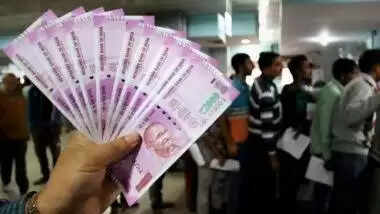 According to Anurag Thakur, Minister of Information and Broadcasting, the Union Cabinet has increased the Dearness Allowance (DA) of central government employees and retirees by 4% under the 7th Pay Commission, effective July 1, 2022. The increase raises DA to 38% of basic pay/pension from 34% currently.
The Union Minister noted at a press conference in New Delhi that the wage and pension increases will help over 50 lakh government employees and around 62 lakh pensioners ahead of the festive season.
Moreover, Finance Minister Nirmala Sitharaman took to Twitter to add that the total fiscal impact of DA and DR (Dearness Relief) will be Rs 12852.5 crore each year.
Cabinet decides to release additional instalment of Dearness Allowance (DA) to central govt employees & Dearness Relief (DR) to pensioners w.e.f. 01.07.22 representing an increase of 4% over the existing rate of 34% of Basic Pay/Pension. (1/2)#CabinetDecisions https://t.co/z4AnzPpGhq

— NSitharamanOffice (@nsitharamanoffc) September 28, 2022

The Union Cabinet approved a rise of 3% in dearness allowance (DA) under the 7th Pay Commission in March, bringing the DA to 34% of basic income.
Dearness Allowance (DA) is a cost-of-living adjustment allowance provided by the government to public sector employees and pensioners.
The DA rate is normally revised every six months by the government. This is done to compensate for the monthly salary/pension wealth's loss in buying power owing to inflation.