Telangana CM KCR to launch national party Bharatiya Rashtra Samiti (BRS) today
Updated: Oct 5, 2022, 17:51 IST
|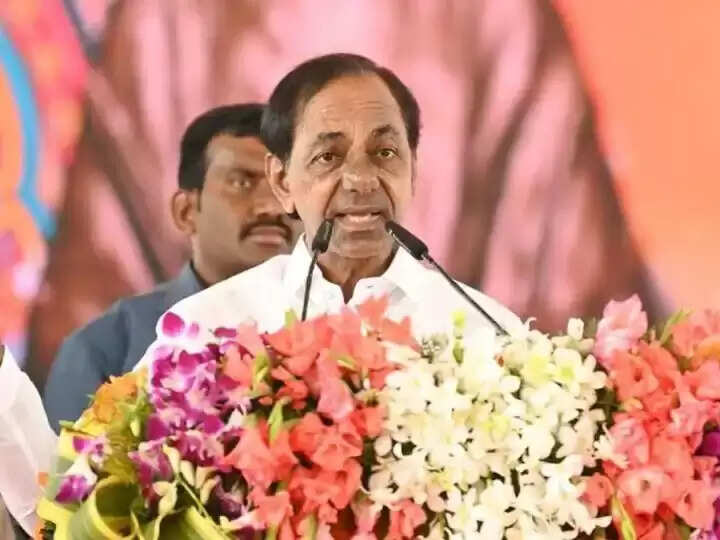 With the aid of local parties, Telangana Chief Minister and TRS leader K Chandrasekhar Rao would create a national party on Wednesday in honour of Vijayadashami. 250 TRS leaders and parliamentarians will be present when KCR makes the announcement that the TRS will now be known as the Bharatiya Rashtra Samiti (BRS) at a blessed time.
The Telangana chief minister has been touring the country in the meanwhile to meet with local party chiefs and forge an anti-BJP alliance.
On Wednesday at the auspicious hour of 1:19 PM, the Telangana Rashtra Samiti (TRS) would be renamed Bhartiya Rashtra Samiti (BRS). The national party announcement will include a discussion of the party's policies, charter, and organisational structure. The CM will provide the party a roadmap.
KCR is eager to create a plan for the assistance programmes for farmers. According to reports, the party would put a lot of emphasis on helping Dalit groups and encouraging communal unity.
If the non-BJP coalition wins the election, KCR has already stated that all farmers in the nation will receive free electricity.
Former chief minister of Karnataka and JDS leader Kumaraswamy, JDS minister Revanna, and other prominent JDS party leaders travelled to Hyderabad for the general body meeting.
On December 9, KCR will speak at a public gathering in Delhi.
KCR claims that the NDA government at the centre has underutilised power and that he has plans to use the 4.04 lakh MW of power efficiently.
In addition to the underutilization of power, he asserted that 70,000 TMC of water were available but were not being efficiently harvested.
According to KCR, the Gujarat model has completely failed and the nation is searching for a potent replacement.
Before entering the national political arena, KCR hosted Kumaraswamay, the leader of the VCK party, for breakfast.
Aravind Alishetty, the leader of the TRS, expressed his admiration for and welcome for KCR's new national party, a bold and exciting decision by the Telangana CM to engage into national politics.