OneWordReview  Jawan: MEGA-BLOCKBUSTER.
Rating: 4.½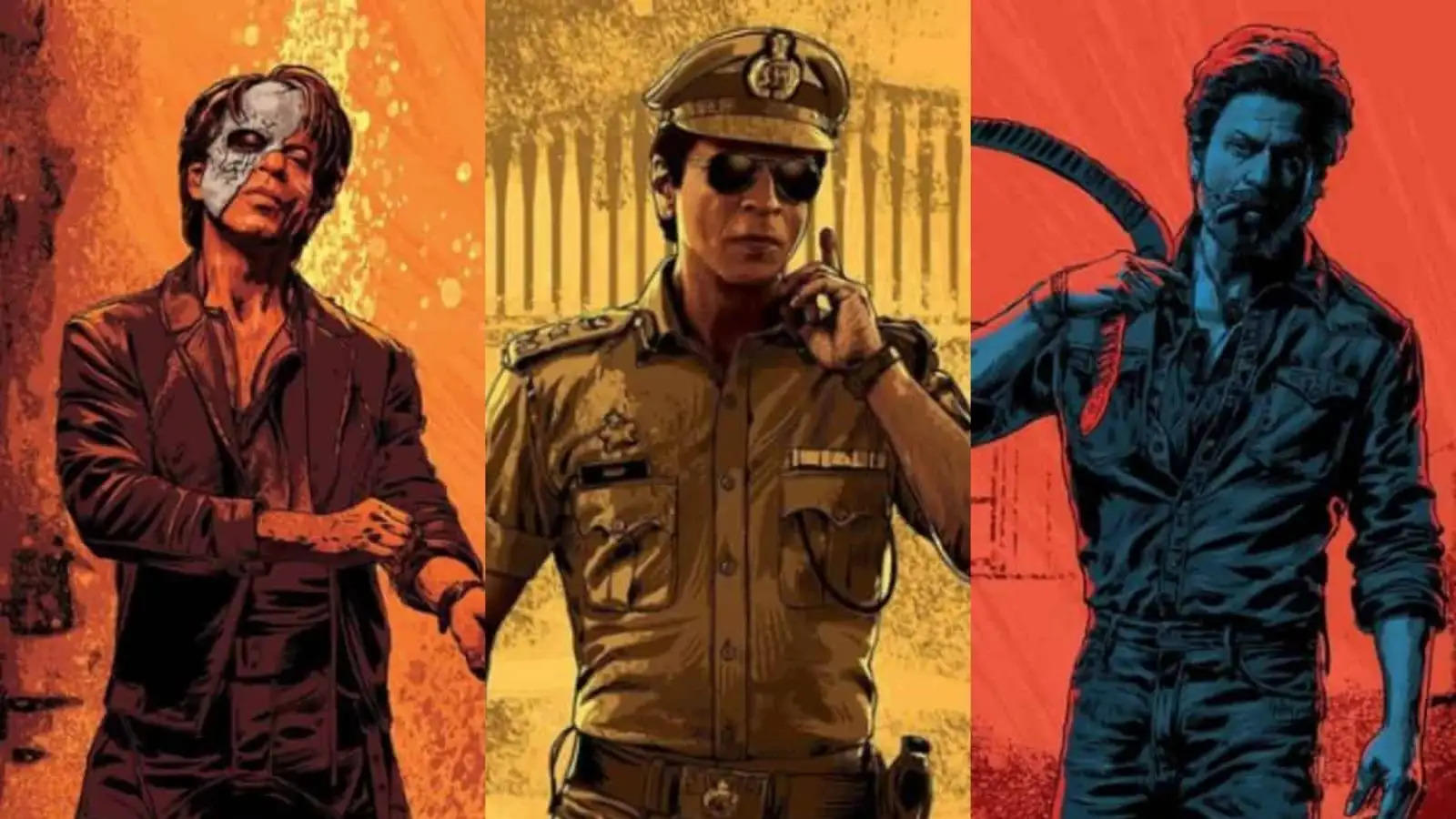 A hardcore masala entertainer that's sure to stand tall in #SRK's filmography… #Atlee presents #SRK in a massy character and he is
… Move over #Pathaan, #Jawan is here to conquer hearts and #BO, both. #JawanReview #Jawan is loaded with aces… Razor-sharp screenplay, attention-grabbing episodes, splendid action pieces, larger-than-life frames, peppy soundtrack, also the pace and energy never dips… However, it's the clash of the gladiators - #SRK and #VijaySethupathi - that's the driving force of #Jawan. #Jawan is is bolstered by towering performances from the proficient cast… Right from #VijaySethupathi to #Nayanthara, #DeepikaPadukone and #SanjayDutt, each actor shines in this well-constructed script. Having said that, #Jawan rightfully belongs to #SRK. It doesn't take a crystal ball to foretell that 2023 belongs to #SRK… Now let's hear the ROAR at the #BO.
By
Red Chillies Entertainment's Jawan (UA) is the story of one man's fight against corruption that threatens to rot our society. Vikram Rathore (Shah Rukh Khan) holds a metro train and its passengers to ransom and demands justice for lakhs of people whose rightful dues are misappropriated to accommodate the rich and the famous. Kalee Gaikwad (Vijay Sethupathi) is the rich and influential person who is sought to be exposed by Rathore. Alongwith him are also exposed the agriculture minister and the health minister in particular and the entire system in general.
Assisting Vikram Rathore are six ladies — Laxmi (Priyamani), Erram (Sanya Malhotra), Kalki (Lehar Khan), Ishkra (Girija Oak), Helena (Sanjeeta Bhattacharya) and Janvi (Aaliya Qureshi). Narmada (Nayanthara) is investigating Vikram Rathore's case. She is a single mother who gets married to Azad (Shah Rukh Khan). Soon, she realises that Azad may be the person she is waiting to nab. Who is Vikram Rathore and who is Azad? Are the two of them related? Is Vikram Rathore able to find a solution to the all-pervasive corruption in society?
Atlee has written a story which is so mass-appealing that every single man will identify with the plot. Since it is like a common man's fight against corruption, it involves the viewers right from the word 'go'. Atlee and S. Ramanagirivasan have penned an extraordinary screenplay which is filled with patriotic sentiments. The drama is so engrossing that the audience doesn't get even a moment to think or ponder. Rather, the proceedings move at such a break-neck speed that the viewers consider themselves a part of the unfolding drama and wait for things to unfold one after another. Since there is action galore in the drama, the viewers cheer for the protagonist and applaud him and his team each time he exposes the evil men and succeeds in getting justice for the poor and the downtrodden. There are at least 20 occasions when the audience goes wild with excitement in the cinema hall — applauding, clapping, screaming, shouting to show support for Vikram Rathore and the others involved in exposing the wrong-doers and seeking justice for those impacted by corruption. The lengthy action scene in the post-interval portion has the audience at the edge of their seats. If the story and screenplay are mass-appealing, it does not mean that there is no masala for the other class of viewers. No, the mass drama has a lot to offer to the classes as well as the family audience. In fact, it wouldn't be incorrect to say that that there's enough masala for the classes, families, young, old, girls, guys, men and women. The intermittent light scenes come as a welcome relief from the tension-ridden drama. The climax in which Rathore and Azad negotiate with Madhavan Naik (Sanjay Dutt) is mind-blowing. Shridhar Raghavan's script consultancy deserves mention.
Sumit Arora's dialogues are absolutely gems and touch the heart at a number of places. The dialogue in which Vikram Rathore chides Kalee Gaikwad for daring to touch his son will make the audience go berserk as it reminds of the real-life incident in which Shah Rukh Khan's son, Aryan Khan, was made a scapegoat in the drugs case almost two years ago.
Shah Rukh Khan plays to the gallery and almost becomes God for the audience, with his splendid performance. Both, as Vikram Rathore and Azad, he acts with such conviction that the viewers are, in a manner of speaking, ready to lay down their lives for him. They are completely with him from the start till the end and root for him like they've rarely done. He looks supremely handsome in both the roles. Nayanthara shines as Narmada. She looks bewitching and acts with effortless ease. Vijay Sethupathi is outstanding as Kalee Gaikwad. He delivers such a fantastic performance that it's a delight to watch him act. Deepika Padukone looks beautiful and performs brilliantly in a special appearance in the role of Aishwarya Rathore. She evokes tears too. Sanjay Dutt stands out in a special appearance as Madhavan Naik. In one word, he is first-rate. Priyamani makes a fantastic mark as Laxmi. Sanya Malhotra is terrific as Eeram. Lehar Khan has her moments as Kalki. She shines. Girija Oak is wonderful as Ishkra. Sanjeeta Bhattacharya makes her presence amply felt in the role of Helena. Aaliya Qureshi is lovely as Janvi. Ridhi Dogra stands her own as Kaveri. Ashlesha Thakur is good as Aaliya. Sunil Grover makes his character of Irani very believable. Eijaz Khan is natural as Kalee Gaikwad's younger brother, Manish. Sangay Tsheltrim is endearing as Juju. Sukhi Grewal is lovely as Murad. Seeza Saroj Mehta is pretty cute as Suji. Ashwin Kaushal (as health minister) and Naresh Gosain (as agriculture minister) provide lovely support. Mukesh Chhabra, Siddharth Bharadwaj (as the jailor), Smita Tambe (as Kalki's mother), Onkar Das Manikpuri (as Kalki's father), Raviraj Kande (as Pushkar Mahajan), Bharat Raj (as Irai Anbu), Kenny Basumatary (as Naazir Ahmad), Utsav Narula (as Mahaveer Jain), Viraj Ghelani (as Dubey), Vijay Sanap (as the cop), Ravindra Vijay (as Mukund Menon), Sai Deena and Jaffer Sadiq (both as henchmen), Abiral Limboo (as kid Juju), Debbie Thokchom (as Juju's mother), Ganesh Gurung (as the militia head), Devin Lulla (as the small kid), Chirjyot Singh (as Captain Abhijeet), Sabita Mishra (as the female line officer), Hariom Kaushik (as the male line officer), Nimesh Diliprai Desai (as dean Mr. George), Sharad Vyas (as the judge), Melroy D'Silva (as Agni Team member), Dennis Wu (as the captain), Ranji Kwatra (as General 2), Himanshu Domain (as General) and Piyush Patil (as Kalee's lawyer) lend remarkable support.
Atlee's direction is outstanding. He has narrated the subject with such finesse that the drama becomes enthralling for all age and class groups. Anirudh's music is good. The songs may not be superhit but they are appealing all the same. Lyrics (Kumaar and Irshad Kamil) are very nice. Song picturisations (by Farah Khan, Vaibhavi Merchant, Shobhi and Lalitha Paulraj) are eye-filling. Anirudh's background music is outstanding and heightens the impact of the patriotic flavour, thrill and sentiments. G.K. Vishnu's cinematography is mind-blowing. Action scenes (by Spiro Razatos, Anl Arasu, Yannick Ben, Craig Macrae, Kecha Khamphakdee and Sunil Rodrigues) are thoroughly enjoyable and afford tons of thrill. T. Muthuraj's production designing is superb. Ruben's editing is super-sharp.
On the whole, Jawan is a blockbuster of epic proportions. It will prove to be one of the biggest blockbusters of Hindi cinema ever. It shouldn't be a surprise even if it turns out to be THE BIGGEST Hindi blockbuster ever. The film has tremendous repeat value.